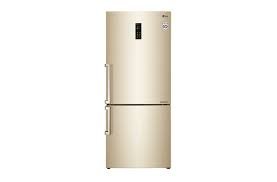 LG Refrigerator Error Codes
These error code can help you diagnose a problem with LG bottom-freezer refrigerator
| | | | |
| --- | --- | --- | --- |
| Error Code | Condition | Check/Repair | Suspected Spare |
| Er FS | Freezer sensor error | Sensor and wiring connector problems | Thermistor (temperature sensor), Wiring harness, main Power control board (PCB) |
| Er rS | Refrigerator sensor error | Sensor and wiring and connectors | Thermistor (temperature sensor), Wiring harness, Main power control board (PCB) |
| F dS | Freezer defrost sensor | Sensor short or wiring problem | Controller assembly, which is a component that has the defrost thermistor (temperature sensor) and the fuse for the defrost system |
| r dS | Refrigerator defrost sensor | Sensor short or wiring problem | Controller assembly, which is a component that has the defrost thermistor (temperature sensor) and the fuse for the defrost system |
| Er HS | Humidity sensor | Sensor short and wiring problem | Humidity sensor |
| Er IS | Ice maker sensor | Sensor short or wiring problem | Ice maker assembly; the sensor isn't usually sold separately. |
| Er SS | Pantry sensor | The pantry is the deli drawer. Short in sensor or wiring problem. | Pantry temperature sensor |
| Er rt | Room temperature sensor | Short in sensor and wiring problem | Room temperature sensor |
| Er It | System error inside ice maker | Self-test ice maker routine | ice maker assembly |
| Er gF | Flow meter error code | Water pressure, flow of water | Flow meter |
| F dH | Sensor did not get over 40 F in defrost | Faulty fuse, heater, control board | Controller assembly, defrost heater, relay on control board |
| r dH | Sensor did not get over 40 F | Faulty fuse, heater, control board | Controller assembly, defrost heater, relay on control board |
| Er IF | The fan for the ice compartment failed | Icing fan blocked, ice fan motor is defective, wiring in the circuit is defective, or the control board has failed | Ice fan motor, Wiring harness, Power control board (PCB) |
| Er FF | Evaporator fan failed | Fan motor, control board, wiring harness | Evaporator fan motor, Power control board, Wiring harness |
| Er CF | Condenser fan motor is defective | Condenser fan motor, wiring or the control board | Condenser fan motor, Power control board, Wiring harness |
| Er CO | Communication error | Communication error between main board and display board | Display control board, Power control board, Wiring harness |
What to do if you see error codes on your LG refrigerator? How can a technician handle LG refrigerator error codes and restore optimal functionality? If you are searching for authentic answers to these questions, you can visit onlySpare. We offer reliable and authentic information on all technical aspects to help the technician community in the best possible way.
You can find all types of LG refrigerator error codes at our 'Technical World' category. Better awareness of these error codes makes the process of diagnosing the issue easy and fast. We give clear about the condition of the refrigerator when you see each type of error code. The best troubleshooting tips are offered to resolve these problems.
The suspected spare is also pointed out clearly for different types of error codes. Once you get convinced about the damage of a specific spare, you can purchase the right one from us. As an online classified web & mobile application with an excellent reputation, we allow people to sell and buy a wide range of electronic spare parts.