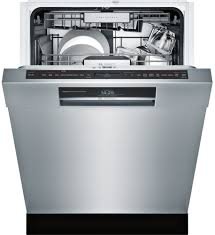 Bosch Exxcel Dishwasher Troubleshooting
OBLEM
SOLUTION
Waste water pump
Large food remnants or foreign objects which were not captured by the filters may block the waste water pump. The clean water will then be above the filter.
In this case:
- First always disconnect the appliance from the power supply.
- Take out top basket 1201 and bottom basket 1281.
- Remove the filters 1261.
- Scoop out water, use a sponge if needed.
- Pries out the white pump cover (as illustrated) using a spoon. Grip the cover on the crosspiece and lift diagonally inwards. Remove cover completely.
The appliance does not start.
The mains fuse has tripped.
The appliance plug has not been inserted.
The appliance door has not been shut properly.
A setting cannot be changed, a programme starts.
Wrong programme button pressed. Terminate the programme and start all over again. You did not wait until programme ended.
Lower spray arm rotates sluggishly.
Spray arm blocked.
The door is difficult to open.
Childproof lock is activated. The deactivation instructions are at the back in the envelope
Door cannot be closed.
Door lock has been activated. To reset, close the door with greater force.
Cover on the detergent dispenser cannot be closed.
Detergent dispenser overfilled and mechanism blocked by sticky detergent residue.
Detergent residue in the detergent dispenser.
Dispenser was damp when filled. "Check water supply" display 7 lights up.
Tap turned off.
Water supply interrupted.
Supply hose kinked.
Filter in the water supply blocked.
Switch off the appliance and pull out the mains plug.
Turn off the tap.
Clean filter in the supply hose.
Reconnect power supply.
Turn on the tap.
Switch on the appliance.
Water is left in the appliance at the end of the programme.
Filters blocked.
Waste water pump blocked, cover on the waste water pump is not locked in position
The programme has not yet ended. Wait until programme ends (digital display indicates u'Uu) or implement the "Reset" function.
Error code E :22
Filters 1261 are soiled or blocked.
Refill indicator for salt 8 and/or rinse aid 9 is not lit.
Refill indicator/s switched off.
Adequate salt/rinseaid available.
Refill indicator for special salt 8 is lit.
No salt.
Refill with special salt.
Sensor does not detect salt tablets. Use different special salt.
Unusual foam formation.
Handwash liquid in the rinse aid dispenser. Spilled rinse aid causes excessive frothing, therefore please remove with a cloth.
Appliance stops during the wash cycle.
Power supply interrupted.
Water supply interrupted.
Filling valves making striking noises
Caused by the installation of the water line and has no effect on the function of the machine. Remedial action is not possible. Knocking/rattling noise during rinsing
Spray arm is striking utensils.
Utensils not arranged correctly.